In yet another effort to avoid dressing like the dull, drab color scheme often associated with offices (i.e. black, white and a multitude of grays), I have drastically broadened my color horizons for work apparel. Typically, I am a serious proponent of black--it's slimming, matches with everything, helps highlight accessories and looks good whether you have a sun-kissed tan or wore SPF 100 your entire Cabo trip. While there are lots of cute neutral options for regular and night life, this isn't exactly the case for work life (at least for those of us subject to business professional and casual). Yes, everyone needs neutral, classic pieces for a work wardrobe. You should definitely have a black or gray (or both) suit, but let's try not to look like every other office clone out there in a plain suit. For day to day wear, I recommend incorporating pops of color. This doesn't mean dress like a rainbow....and you obviously have to read your work environment. If you work at an extremely professional and conservative corporate law firm, you may have to use subtle hints of color (so maybe the orange
pants
are a no).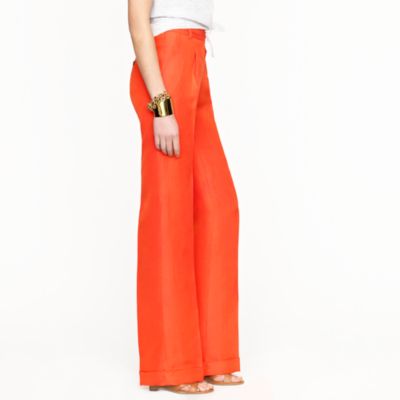 If you can do it, a colored pant (like
these
by Vince Camuto) can be so cute and eye catching. There are lots of great colors in tops, of course. This s
ilk button down
by Trouve comes in coral too! Maybe you're just trying to catch the attention of the cute guy four cubicles down as you take the scenic route to the restroom four times a day, but being noticed is important beyond this purpose. Appropriate pieces in rich colors (not necessarily bright) can set you apart from the sea of black, white, gray and basic blue that surrounds you. It never hurts to have a conversation (compliment) piece. Sometimes all you need is the right introduction, and poof! You've made the right connection. Another plus? It's easier to transition your outfit for happy hour at the bar....
One more way to incorporate this trend is with jewelry. There are so many eye-catching, unique ways to wear jewelry in the workplace. Plus, it's perfect for a more color-subtle style. Jewelry is appropriate for every season and you can find great deals and prices for different types of fashion pieces (H&M often has great options!). I'll also be zeroing in on my favorite type of statement jewelry of the moment in my next post....
xoxo